For years now, the Weather Underground has been my first choice for on-line weather. It's got a slightly 1998 ghetto web design, but it's chock full of excellent data that more mainstream weather sites (like the popular Weather.com) hide from the unwashed masses. And, for a small annual subscription fee, you can disable all ads on the site.
I recently discovered Wunder Blog, the Weather Underground's Weather Blog (specifically the West Coast Wunder Blog) and find myself wishing they'd post more often!
This is partly because I've always had more than a passing interest in how the weather "works" and partly because the more time I spend flying gliders and light airplanes, the more important it is that I understand what's going on in the sky.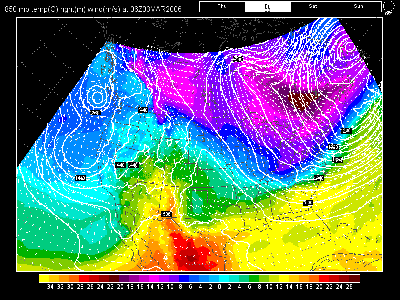 On the Wunder Blog, they don't hesitate to give throw out an 850mb temperature and wind chart to illustrate their description of what's likely to happen. It's good training. I can read their analysis and then look at some of the data they used in forming it.
Good stuff.
Posted by jzawodn at March 02, 2006 08:15 AM
Privacy:
I do not share or publish the email addresses or IP addresses of anyone posting a comment here without consent. However, I do reserve the right to remove comments that are spammy, off-topic, or otherwise unsuitable based on
my comment policy
. In a few cases, I may leave spammy comments but remove any URLs they contain.