At least, if you're Michael S. Rosenwald you do. In his Washington Post story Why America Has to Be Fat, he lays out the case for Fat Americans (most are) being Good For the Economy.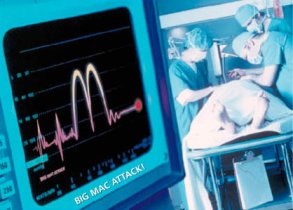 With all due respect to Mr. Rosenwald, who confesses to being 60 pound overweight, you've got to be kidding me! This article is wrong in so many ways that I almost don't know where to begin. The headline alone implies that we have little choice in the matter. The premise that being fat is good for the economy couldn't be more short-sighted. How ignorant of the long-term costs and consequences is this?
Before we go any farther, let me get one thing out of the way. I used to be in the majority: a fat American. But 11 months ago, I decided to change all that and do it in a permanent way. As a result, I'm 55 pounds lighter and can't imagine why I didn't do it 15 years ago. So I think I'm entitled to an opinion on the matter.
I could spend all day picking quotes from the article and ranting about how wrong they are, but instead I'll pick just a few of my favorites:
In some ways, we are better off in this Fat Economy. Many people work in easier, better-paying jobs, which help pay for their big homes in the suburbs. Women don't have to spend two hours preparing dinner every night; many have risen to unprecedented levels of corporate and political power. Flat-panel plasma TVs hang over fireplaces, which can be lit using the same remote control for flipping channels. But the unintended consequence of these economic changes is that many of us have become fat. An efficient economy produces sluggish, inefficient bodies.
Okay, we've got all these better paying jobs which make it possible to buy McMansions and hang flat-panel plasma TVs over our fireplaces. And that means we're better off? Are people really happier and less stressed? The stories I read indicate that we're at or near all-time highs for work related stress and anxiety. The lust for a big house with expensive electronics is hardly healthy. Are those what really matter in life?
But hey, it means Big Business makes money, right? In fact, he says as much:
For many corporations, and even for physicians, Americans' obesity has also fattened the bottom line. William L. Weis, a management professor at Seattle University, says revenue from the "obesity industries" will likely top $315 billion this year, and perhaps far more. That includes $133.7 billion for fast-food restaurants, $124.7 billion for medical treatments related to obesity, and $1.8 billion just for diet books -- all told, nearly 3 percent of the overall U.S. economy.
Yippie!
Can you imagine if that $315 billion had been put to use for something productive like, say, education? No, instead it's being used to make up for laziness. Isn't that just a little sickening?
Now, who do we blame for this?
"The obesity problem is really a side effect of things that are good for the economy," said Tomas J. Philipson, an economics professor who studies obesity at the University of Chicago, a city recently named the fattest in America. "But we would rather take improvements in technology and agriculture than go back to the way we lived in the 1950s when everyone was thin. Nobody wants to sweat at work for 10 hours a day and be poor. Yes, you're obese, but you have a life that is much more comfortable."
Wrong!
The obesity problem is a direct result of how fat people eat. Their lack of concern for their own personal health is the problem, not the fact that calorie-loaded food is easier to come by. That's like blaming crime on guns.
On the calories-expended side of the Fat Economy, economists have noted that changes in the workplace have caused us to burn fewer calories. Prior to the 1950s, jobs often meant hard labor. We lifted heavy things. We worked outside. Our desks -- if we had them -- did not come equipped with computers. We lived in urban environments, walking most places.
Doesnít' that mean we should simply eat less? Or at least exercise more?
"People are just not willing to give up their leisure time," Philipson said. "People don't want to pay to exercise with their leisure time."
Ah ha! There's the real problem. It's laziness. People don't want to exercise unless they're paid to do it. Maybe the headline should have been: Fat Americans Want Money Before Health.
Again, later in the article, there's more evidence that someone understands what's really going on:
"The structure of the economy has made us more obese," Cutler said. "That is clearly true. What businesses do is they cater to what we want, whether what we want is really in our long-term interests or not. So people are obese and they want to diet, but they also want things to be immediately there. Manufacturers and storeowners make that possible. The upside is nobody spends two hours a day cooking anymore."
How depressing that the story is written as if "the economy" is to blame.
Posted by jzawodn at January 23, 2006 10:36 AM
Privacy:
I do not share or publish the email addresses or IP addresses of anyone posting a comment here without consent. However, I do reserve the right to remove comments that are spammy, off-topic, or otherwise unsuitable based on
my comment policy
. In a few cases, I may leave spammy comments but remove any URLs they contain.