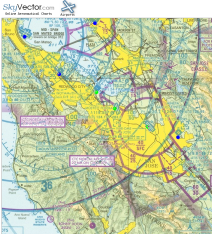 Recently someone pointed me at SkyVector.com which can most easily be described as "the Google Maps of Aviation." They've taken the aviation sectional charts for the entire USA, scanned them, broke them up into square "tiles", and provide a smooth click-and-drag panning interface for navigating the maps.
Like Google maps, you can zoom in and out, drag around, and quickly get a feel for what's there. And there's some overlay data too. They overlay graphics for all known airports. You can click on one to get a detail page. For example, the page for Reid-Hillview in Santa Clara County.
There's currently no provision (that I can find) for overlaying custom user data (waypoints from a GPS would be an obvious starting point). However, they do make it easy to embed a small map in a web page, linking back to SkyVector. Perhaps an ex-SEO designed this? :-)
I think the ultimate combination would be the ability to pull in and overlay real-time and forecast weather data and maybe even Google Maps road or satellite images. But even without that stuff, the site is very useful. Paper aviation sectional maps can be a pain in the ass. They're always folded in all the wrong places. I've long wanted the ability to order custom-printed sectionals where I specify the map center and size. Heck, if the government was to simply put up high-resolution maps or vector graphics files, someone would probably build it.
Until then, we've got SkyVector.
Posted by jzawodn at January 14, 2006 09:04 AM
Privacy:
I do not share or publish the email addresses or IP addresses of anyone posting a comment here without consent. However, I do reserve the right to remove comments that are spammy, off-topic, or otherwise unsuitable based on
my comment policy
. In a few cases, I may leave spammy comments but remove any URLs they contain.