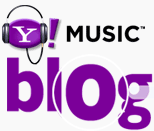 I know that Steve Rubel outed the Yahoo! Music Blog back when it was... in beta (yeah, that's it!). But today it's officially there. And it brings news of the Webjay acquisition including some history:
A couple years back, Lucas created Webjay, a site for easy creation and playback of playlists from the Web. Users can create playlists using music/audio/video from around the Web (with a simple Web form, from scraping a Web page, or with a fancy Ajax interface created by a 3rd party using Webjay APIs), share them with others, include them on their Web sites, browse other users playlists, play the playlists in any media player, or cannibalize the playlists to create new ones. With Dave Goldberg (head of Yahoo! Music) running around telling people that the playlist is the next frontier in digital media, it shouldn't come as any surprise that we're interested in what Lucas is doing with Webjay. Y! Music Engine has some interesting playlisting features, open APIs, and more goodies on the way. Lucas will help shape our strategies around playlisting in the future.
Congrats to Ian and team for getting the blog out there. As Ian notes, it's been in the works for a while.
Kevin Burton beat me by mere minutes! :-)
Posted by jzawodn at January 09, 2006 12:20 PM
Privacy:
I do not share or publish the email addresses or IP addresses of anyone posting a comment here without consent. However, I do reserve the right to remove comments that are spammy, off-topic, or otherwise unsuitable based on
my comment policy
. In a few cases, I may leave spammy comments but remove any URLs they contain.