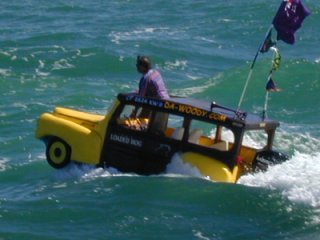 While discussing a product at work today, Caterina said something that really stuck with me. For whatever reason, I like her analogies. They work for me.
We were discussing a recent example of a product group that was trying to do what amounts to merging two things that really ought to be distinct. The end result, as you might imagine, is a product that does neither thing well.
She called that "building a carboat." And that immediately conjured up the image of a mis-conceived vehicle that "drives like a boat and floats like a car." While that's amusing to think about, it's easy to do when you're trying to please too many masters, designing by committee, or both.
I'm a big fan of consumer products that have one very clear and easy to articulate purpose. If you ever find yourself in the midst of building something that seems to be lacking that clarity, make sure to stop and ask yourself if you're building a carboat.
Posted by jzawodn at January 05, 2006 08:53 PM
Privacy:
I do not share or publish the email addresses or IP addresses of anyone posting a comment here without consent. However, I do reserve the right to remove comments that are spammy, off-topic, or otherwise unsuitable based on
my comment policy
. In a few cases, I may leave spammy comments but remove any URLs they contain.