Dear Lazyweb,
I've long wanted to get a system rigged up that will let me capture video while flying. Once a flight is over, I'd like to transfer the video to a computer and edit it down to a reasonable size and format.
The requirements are roughly:
A recording capacity of a minimum of 4 hours, ideally 8 or more (some flights are long)
Television quality video or better
Small size and weight (there's not a lot of room in the gliders and planes I fly)
Able to take external power via a cigarette style adaptor (the gliders usually have a 12 volt power supply available)
So let's look at the options...
Separate Devices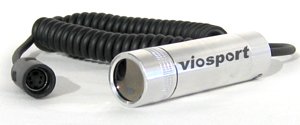 One option to consider is a small lipstick style camera which I can mount above the aircraft panel, above my shoulder, or even on my hat. I've found a number of these devices online. Viosport makes a line of lipstick sized cameras for helmet mouting in "extreme" sports.
The output would need to be fed into a recording device capable of recording the video signal in a useful format. I've had little luck in locating a small self-contained video recorder/encoder device which can take the output of such a camera. Ideally, the device would be roughly the size of an iPod or maybe an iPAQ.
Unified Hard Drive Based Camcorder
I've long wished that someone would build a compact video camcorder that had a built-in hard disk rather than using old-fashioned low capacity tapes or similar media. That day has finally come!
I just discovered the JVC Everio G series camcoders (specs). There are several models available, featuring either 20 or 30GB hard disks, 15-25x optical zoom, and either 1 or 2 megapixel sensors.
I need to see one of these in person to determine if it is physically suitable. However, there are a few things to note just reading the specs:
The standard battery lasts roughly an hour. Progressively larger add-on batteries are available, but even the largest promises just under 5 hours of life.
There's apparently no cigarette adaptor available for external power (see accessories). There are standard wall power adaptors, so I'd likely need to poke around some more and rig up an ad-hoc solution.
It's not clear whether there's anything I can do to stop the auto-focus from focusing on the aircraft canopy from time to time. I've noticed that this is occasionally a problem with digital still cameras, so I can only assume it affects video cameras too. However, it's far less likely that I'd notice until is far too late.
Are there other hard drive based video recorders out there?
In My Dreams
My dream rig would have self-contained power for up to 6 hours, store 20 hours of high qualify video, and record extra data along with the video (time and GPS coordinates). But I suspect that's a couple more years off.
Posted by jzawodn at December 26, 2005 12:23 PM
Privacy:
I do not share or publish the email addresses or IP addresses of anyone posting a comment here without consent. However, I do reserve the right to remove comments that are spammy, off-topic, or otherwise unsuitable based on
my comment policy
. In a few cases, I may leave spammy comments but remove any URLs they contain.