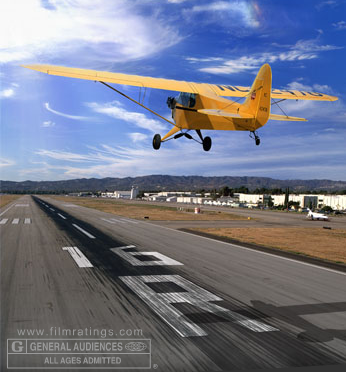 I recently received my long awaited copy of One Six Right, a movie that every pilot should see at least once or twice. One Six Right contains a wonderful mix of beautiful aviation photography, interviews with a variety of pilots, and a good dose of aviation history.
The setting for this film is the Van Nuys Airport (KVNY) in the San Fernando Valley. Van Nuys is the busiest general aviation airport in the country and has an insane number and variety of privately owned planes operating there on any given day. During the course of the film, we get a brief history of the airport and aviation in the Los Angeles area.
Topping it all off is an excellent soundtrack that really brings some of the flying to life. Oh, and there are a bunch of extra features on the DVD as well.
I've had the DVD just about a week and have already watched it four times. But I'm a bit of an aviation nut. Your mileage may vary. :-)
If there's a pilot on your giftmas list, consider stuffing a copy in his or her stocking. They won't be disappointed. Neither will you.
Posted by jzawodn at December 13, 2005 12:29 AM
Privacy:
I do not share or publish the email addresses or IP addresses of anyone posting a comment here without consent. However, I do reserve the right to remove comments that are spammy, off-topic, or otherwise unsuitable based on
my comment policy
. In a few cases, I may leave spammy comments but remove any URLs they contain.