Holy Crap!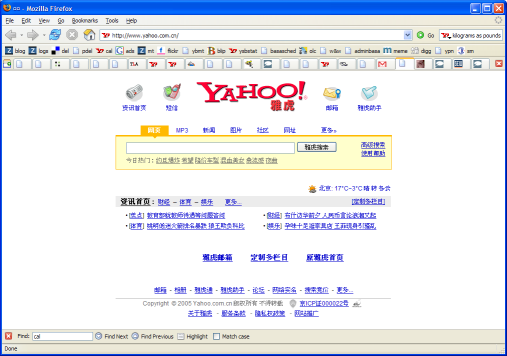 During one of today's cab rides, a Yahoo! Taiwan engineer was telling me about the re-launch yesterday of Yahoo! China's home page. He said it was search focused and uncluttered.
I decided to have a look for myself and was even more surprised than I expected to be (does that even make sense?). They have several tabs, just like Yahoo! US and Google do. But get this...
They have a MP3 as a full-blown tab!
Wow.

And it even lets you search by all the common formats too: mp3, wma, etc.
I'm not sure why this impresses me so much. AltaVista has had an MP3/Audio tab for quite some time. Maybe it's the terminology that gets me? Having "MP3" front and center feels like a throwback to the Napster days or something.
Posted by jzawodn at November 10, 2005 12:01 AM
Privacy:
I do not share or publish the email addresses or IP addresses of anyone posting a comment here without consent. However, I do reserve the right to remove comments that are spammy, off-topic, or otherwise unsuitable based on
my comment policy
. In a few cases, I may leave spammy comments but remove any URLs they contain.