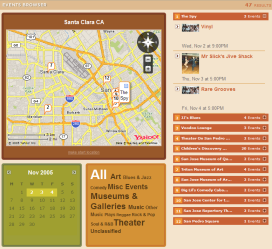 One of the coolest things I've seen recently came out of a small group of hackers in the Search group at Yahoo. During the development of the new version of Yahoo! Maps (launched tonight with multi-point routing and other goodies), someone wondered what we could do to show off the new Maps and APIs.
Given that mashups are all the rage, it seemed like the natural way to go. From there, this small group began to hack on some ideas and ultimately developed the Local Events Browser as a demonstration of what can be done with the new Maps AJAX API, Image Search API, Term Extraction API, Local Search API, and Geocoding API. (It's a demo app--no docs and fancy stuff.)
Simply put, it's a highly interactive map based browser for local events. I could spend a lot more time trying to describe what it does, but go play with it and see.
If you've been wondering what Chad has been doing since he joined Yahoo, now you know. :-)
See Also
Posted by jzawodn at November 02, 2005 09:00 PM
Privacy:
I do not share or publish the email addresses or IP addresses of anyone posting a comment here without consent. However, I do reserve the right to remove comments that are spammy, off-topic, or otherwise unsuitable based on
my comment policy
. In a few cases, I may leave spammy comments but remove any URLs they contain.