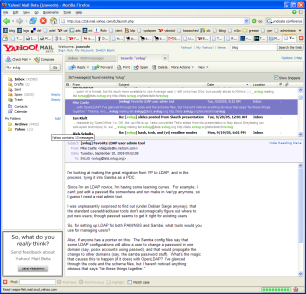 I'm surprised that people are still emailing me to ask "when are you gonna write something about the new Yahoo! Mail?"
I figured that with Walt Mossberg saying:
I've been comparing the new version of Yahoo Mail, which claims to be the leader in Web mail, with Gmail, the challenger Yahoo most fears. My verdict: The new Yahoo Mail is far superior to Gmail. Yahoo more closely matches the desktop experience most serious email users have come to expect.
...and PC Magazine saying:
...there's no question that Yahoo! is set to make a big leap forward with its new Web-based mail product. We'll hold off on a rating until the official release or at least the full public beta, but from what we've seen and tested so far, Yahoo!'s competition may soon have some serious catching up to do.
...and the AP saying:
Overall, I find Yahoo easier to use, and it's quite impressive for a product that's only weeks old. I expect even more features by the time a final version is released.
Well, I figured that the cat was pretty well out of the bag: the new Yahoo! Mail kicks a lot of ass. For lots of people out there, it's going to be the first web-based replacement for Outlook or Outlook express they've ever seen.
And it's got some serious "WOW" factor going for it. I still remember when Ethan turned on my access a few months ago. I was at home packing for my trip to Parowan when he gave me the URL. The interface loaded up and I just thought... wow!
It was slower back then and has some bugs but it was already clear that it was going to move expectations up a level or two.
Oh, and if you look at that screenshot, you'll see that there are over 42,000 messages in my inbox. The product still works well with a big volume of mail.
Now stop asking when I'm gonna write about it! :-)
BTW, It is a closed beta right now but that should change soon. In the meantime I've asked the Yahoo! Mail team if I could give out a few "invites" so faithful readers could try it out. No response yet, so no promises. But let me know if you think you could really use it...
Posted by jzawodn at September 22, 2005 05:17 PM
Privacy:
I do not share or publish the email addresses or IP addresses of anyone posting a comment here without consent. However, I do reserve the right to remove comments that are spammy, off-topic, or otherwise unsuitable based on
my comment policy
. In a few cases, I may leave spammy comments but remove any URLs they contain.