John Battelle has written about Transparensee, first giving an overview of their discovery engine and later using their fuzzy matching on a real estate database.
Steve Lavine, the CEO of Transparnsee, is in town this week and I had a chance to talk with him for an hour or so this afternoon. During that chat, he gave me the green light to show off something I'd seen a few weeks ago when it was still in development.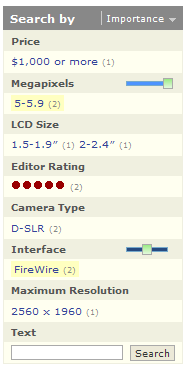 Transpaensee has put together a technology demonstration using digital camera product data from a popular technology publisher. The goal was to build an interactive shopping aid that lets you explore the universe of a cameras using whatever attributes you like to slice the data: price, resolution, editor's ratings, size, etc.
When he talked me thru the demo on the phone, I was very impressed. The site worked the way I wanted it do. The last few times I've shopped for a digital camera, I knew the key featues I wanted and had to jump thru many hoops to figure out what the landscape looks like.
The really slick part is that the fuzzy matching means it's harder to back yourself into a corner when exploring the products. If there aren't many exact matches, no worries. The software provides the next best matches so you can see what's nearby. Example: finding all the 5.0-5.9 megapixel cameras that have firewire (screen shot). There are two exact matches but several close matches are included below them. By ajusting the "megapixels" or "interface" sliders, I can control which feature is more important in my shopping and refine them on the fly. And, for complete control, I can click the "show form" link to unvil all the controls.
That makes it an interesting mix of searching and browsing. It's like having an intelligent guide by your side at a large electronics store. You still get the ability to drill down quickly but that doesn't completely shut you out of looking at what's nearby on the shelves.
Anyway, I can't do the demo justice just by writing about it. (Yeah, I know I said something like that last time I wrote about Transparensee.) Go play with it. Try the sliders. Drill into the various dimensions. See what you think. I really like the quick refinements I can perform.
Keen observers will note that we already provide some functionality like this in Yahoo! Shopping. If you look there for digital cameras, you can drill into various buckets like "over $400" and then further dive into "canon", for example. And then there's SmartSort, which takes a similar but different approach.
Anyway, it's cool to see better interfaces becoming available across the board. Given the amount that on-line commerce and listings will grow in the next few years, there's a lot of incentive to get this stuff right.
[Disclaimer: I have a very small financial interest in Transparensee. Of course, I have a much larger one in Yahoo! and never felt compelled to say so. Funny, that.]
Posted by jzawodn at September 06, 2005 10:38 PM
Privacy:
I do not share or publish the email addresses or IP addresses of anyone posting a comment here without consent. However, I do reserve the right to remove comments that are spammy, off-topic, or otherwise unsuitable based on
my comment policy
. In a few cases, I may leave spammy comments but remove any URLs they contain.