A while back, in Hello GDS, Goodbye YDS I wrote praising Google Desktop Search (GDS) over Yahoo! Desktop Search (YDS) because it didn't work with Thunderbird mailboxes. As you might imagine, I caught a fair amount of shit for this at work.
You can just imagine the arguments, right?
Them: It's coming in the next version.

Me: That doesn't help me now.

Them: Most poeople use Outlook.

Me: I'm not most people.
In other words, my less than popular response was generally along the lines of: "fix your damn product and then we can talk."
Well, it's time to talk! :-)
A week ago I got a beta build of the latest release of YDS. In my testing so far, I've been quite impressed. It indexed all my Thunderbird mail and I set off about searching for stuff that I'd previously used GDS for.
The Good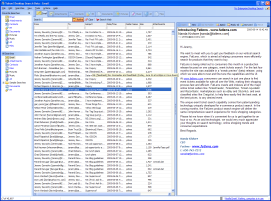 YDS consistently got me the answer faster than GDS. The type-ahead search (where results change as you type) is excellent. Being able to sort by any column I want (date, size, sender, whatever) speeds things up even more. And the message preview made for fewer clicks ("is this the right message or is it a response to the one I want?")
This made me realize that one of the glaring holes in GDS for me is the assumption that I always want to search my "desktop". The reality is that 95% of the time I simply want to search my email. YDS gets that.
I haven't looked at it yet, but I wonder what it'd take to embed a YDS search box directly in the Thunderbird interface.
The Bad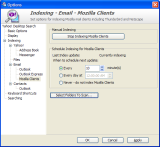 YDS has many preferences, but it's missing the one I most want: don't index when I'm on battery power. GDS doesn't have that either. As time goes on, I hope more and more vendors make their software laptop aware (that means both power and network connectivity).
Conclusion
I can stop complaining! I have something more than the search built-in Thunderbird for searching my e-mail very quickly. It'll be intersting to see if there are cases where I fall back to using GDS. I can't think of any off the top of my head.
Posted by jzawodn at July 12, 2005 03:00 PM
Privacy:
I do not share or publish the email addresses or IP addresses of anyone posting a comment here without consent. However, I do reserve the right to remove comments that are spammy, off-topic, or otherwise unsuitable based on
my comment policy
. In a few cases, I may leave spammy comments but remove any URLs they contain.