Call me slow, but I just now got around to playing with del.icio.us direc.tor.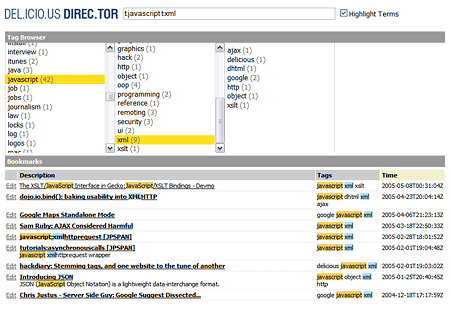 What is it? According to the site:
del.icio.us direc.tor is a prototype for an alternative web-based rich UI for del.icio.us. It leverages the XML and XSL services of modern browsers to deliver a responsive interface for managing user accounts with a large number of records.
But if you ask me, it's brilliant. Not the UI, which is nice but needs a bit of work yet. The concept of doing this all in the browser with a some JavaScript and XSLT. Installation was easy, I just drag a link to my toolbar.
Kick Ass.
This gives me a whole new (and very fast) way of re-discovering stuff I've bookmarked. That's a good thing, since I have 1,090 bookmarks in del.icio.us as of now.
There's a lot of potential here.
Posted by jzawodn at July 11, 2005 01:38 PM
Privacy:
I do not share or publish the email addresses or IP addresses of anyone posting a comment here without consent. However, I do reserve the right to remove comments that are spammy, off-topic, or otherwise unsuitable based on
my comment policy
. In a few cases, I may leave spammy comments but remove any URLs they contain.