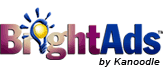 I've been selectively running AdSense ads on my blog for quite some time now, but am starting to wonder if I shouldn't tinker with some of the other services out there. And since I can't use the Yahoo offering yet, I'm looking at Kanoodle's BrightAds.
I just applied to the program and the approval is pending. The sign up was trivial and I'm looking forward to the implementation details.
In the mean time, I haven't found any good comparisons of revenue from Google AdSense vs. Kanoodle BrightAds. Anyone run a month-long comparison on a blog with more than 100,000 page views per month?
I'm curious.
Posted by jzawodn at June 10, 2005 01:16 PM
Privacy:
I do not share or publish the email addresses or IP addresses of anyone posting a comment here without consent. However, I do reserve the right to remove comments that are spammy, off-topic, or otherwise unsuitable based on
my comment policy
. In a few cases, I may leave spammy comments but remove any URLs they contain.