Dear Lazyweb,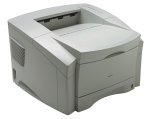 I've had a decent low end NEC SuperScript 1400 laser printer for the last 5 years or so ($300 on Amazon.com in 2000). But I find myself wanting something with more than 300dpi print resolution and the ability to spit out color.
I'm not looking for a photo printer. Most of the color stuff I'm likely to produce will be maps, charts, or tables rather than photos.
Any recommendations for a good color printer that doesn't cost way too much when it's time to refill the ink? Maybe something that has separate cartridges for each color would be best? Speed isn't an issue, since I do not intend to do high-volume printing.
I don't know. I haven't owned a color inkjet printer for about 8 years, so I'm pretty far behind on what's reasonable today.
Suggestions? Printers or brands to avoid?
Thanks.
Posted by jzawodn at June 10, 2005 10:43 AM
Privacy:
I do not share or publish the email addresses or IP addresses of anyone posting a comment here without consent. However, I do reserve the right to remove comments that are spammy, off-topic, or otherwise unsuitable based on
my comment policy
. In a few cases, I may leave spammy comments but remove any URLs they contain.