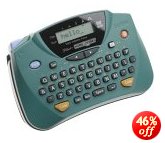 For a while now, I've been looking to get an inexpensive label maker. My goal was to label the many bits of equipment that go along with my glider. By having my name and aircraft or contest number on my stuff, there's less chance that it'll walk off or get lost.
After a few days of hunting around on-line and reading reviews, I decided on the Brother PT-65. I'm quite happy with this unit. It's small, quiet, has an easy to use keyboard, and prints very nice looking labels. Plus, I can order a variety of colored label tapes so that my labels will stand out anywhere I might stick them.
Best of all, I can select from a variety of font sizes, making it easy to squeeze a bit more information on a label than might otherwise be possible. If you're looking for a cheap label maker, check it out. Amazon.com has it now for $26.99.
Posted by jzawodn at May 22, 2005 10:16 AM
Privacy:
I do not share or publish the email addresses or IP addresses of anyone posting a comment here without consent. However, I do reserve the right to remove comments that are spammy, off-topic, or otherwise unsuitable based on
my comment policy
. In a few cases, I may leave spammy comments but remove any URLs they contain.