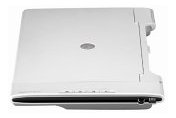 Back in March I asked for scanner recommendations. My needs weren't terribly demanding and I got some good advice. The decision ultimately came down to the Canon CanoScan LiDE 500F and some of the more expensive HP models.
I decided that it'd be best to buy the Canon and return it if I didn't like it. Amazon.com had it in stock and it didn't cost and arm and a leg--under $150.
After having used it on documents, full-page magazine pages, and some old photos, I've decided that it's a keeper.
The Good
size: this thing is quite small
sound: the canon is very quiet when scanning
light weight: the glass isn't terribly thick and it uses LEDs rather than a bit fluorescent tube
speed: it scans documents faster than I expected
The Bad
the software: the canon "toolbox" is a little klunky and limited, but it's sufficient for scanning into PDF files or something I can toss into Photoshop or The Gimp
In summary, I'm quite happy with this scanner. For the little money I spent, it's more than I expected. I'd recommend it to anyone looking for a USB scanner to handle occasional documents and photos.
Posted by jzawodn at May 08, 2005 06:43 PM
Privacy:
I do not share or publish the email addresses or IP addresses of anyone posting a comment here without consent. However, I do reserve the right to remove comments that are spammy, off-topic, or otherwise unsuitable based on
my comment policy
. In a few cases, I may leave spammy comments but remove any URLs they contain.