With some help from Russell I got my V710 cell phone working as a Bluetooth modem for my Windows XP notebook. So, of course, the next thing to do was hit dslreports.com and perform a speed test.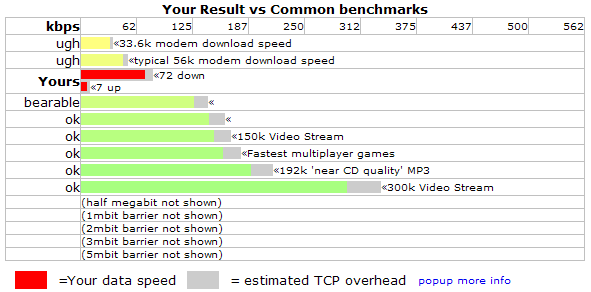 As you can see, it's not bad. Certainly better than dial-up but also not quite as good as I'd have hoped. But this was only one test performed from the second floor of my townhouse. I'll probably try others during my upcoming travel.
Posted by jzawodn at February 26, 2005 09:35 PM
Privacy:
I do not share or publish the email addresses or IP addresses of anyone posting a comment here without consent. However, I do reserve the right to remove comments that are spammy, off-topic, or otherwise unsuitable based on
my comment policy
. In a few cases, I may leave spammy comments but remove any URLs they contain.