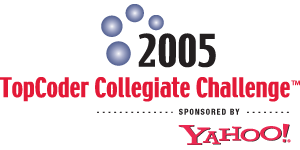 I'll be in the TopCoder on-line chat tonight from 6-7pm Pacific Time. Since Yahoo is sponsoring the 2005 TopCoder Collegiate Challenge, I was asked if I'd like to participate in the hour-long chat that happens before each competition.
Of course I would!
Now, I've only ever been part of one programming contest before. It was 1996 (I think) and a small group of us from BGSU drove up to the University of Waterloo to participate in the regional ACM Programming Contest.
The Waterloo teams kicked everyone's asses, but it was still a lot of fun.
Anyway, I'll be on-line to answer questions about programming and software development in the real world, at least to the degree that the companies I've worked at or consulted with represent the real world. :-)
Posted by jzawodn at February 08, 2005 08:03 AM
Privacy:
I do not share or publish the email addresses or IP addresses of anyone posting a comment here without consent. However, I do reserve the right to remove comments that are spammy, off-topic, or otherwise unsuitable based on
my comment policy
. In a few cases, I may leave spammy comments but remove any URLs they contain.