My company notebook apparently has Symantec AntiVirus installed, 'cause it just popped up an odd dialog box. (Yes, I really ran across this at nearly 4am.)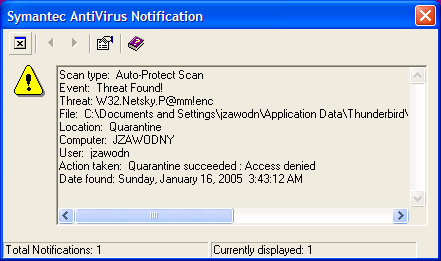 Notice the "Action taken" part? It says "Quarantine succeeded" followed by "Access denied." I'm left wondering what really happened. Did it succeed or not?
Who knows?
I have always wanted to submit something to This Is Broken, so maybe now is my chance. :-)
Posted by jzawodn at January 16, 2005 03:54 AM
Privacy:
I do not share or publish the email addresses or IP addresses of anyone posting a comment here without consent. However, I do reserve the right to remove comments that are spammy, off-topic, or otherwise unsuitable based on
my comment policy
. In a few cases, I may leave spammy comments but remove any URLs they contain.