Asa has posted a graph and write-up of the Firefox download numbers.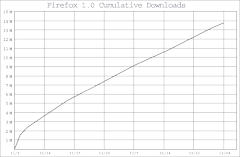 Not bad for a little Open Source project, is it?
Posted by jzawodn at December 30, 2004 12:22 PM
Privacy:
I do not share or publish the email addresses or IP addresses of anyone posting a comment here without consent. However, I do reserve the right to remove comments that are spammy, off-topic, or otherwise unsuitable based on
my comment policy
. In a few cases, I may leave spammy comments but remove any URLs they contain.