Now that the famous Firefox advertisement has run in the New York Times, I've seen several folks publishing figures for the browser mix hitting their weblogs.
Tim Bray
Tim Bray (of Sun Microsystems) updates his chart roughly every weekend.
On his site, Safari struggles to hit 10%, while the Mozilla family of browsers (including Firefox) and Microsoft Internet Explorer are battling for first place.
BoingBoing
The folks at BoingBoing have posted about this recently and even make their full stats available.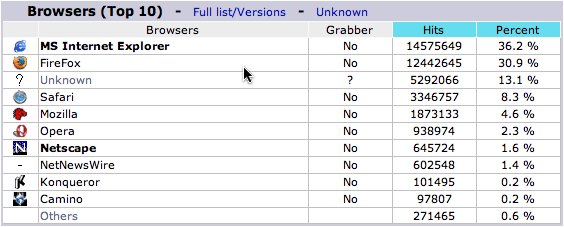 Like on Tim's site, BoingBoing has IE and Firefox nearly tied, while Safari is under 10%.
GigaOm
Earlier today Om Malik (of Business 2.0) posted his numbers and they aren't surprising either. Note that if you factor out his "unknown" hits, Firefox has a healthy share--a bit more than Internet Explorer.
(He didn't provide any cool graphic or chart I could steal.)
My blog
So I decided to play with my numbers a bit to see what they look like. The following charts are based on December 2004 traffic to date. We start with the raw data from awstats: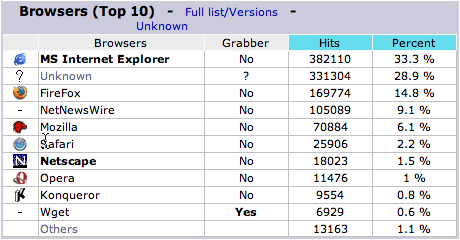 That's interesting. It seems that readers of my blog are a bit less likely to use Firefox than some of the others I've seen. I decided to remove the "unknown" ones (mainly hits from aggregators) and re-computer the percentages in excel: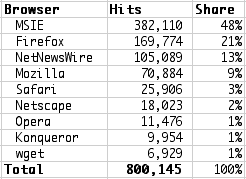 I left NetNewsWire in because I'm not sure if it represents (a) hits to my RSS feeds, (b) hits to my pages, or both. You see, NetNewsWire has an integrated tabbed browser, so those very well could be legit "browser" hits.
Anyway, if we look at this in terms of "slices of the pie" the picture is interesting: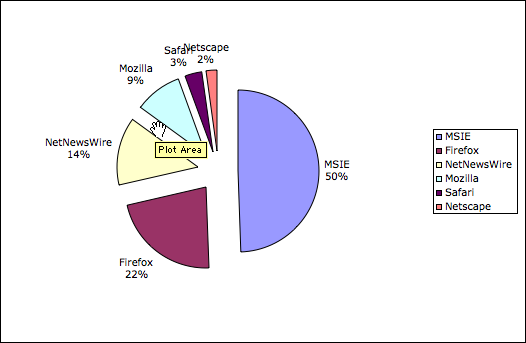 To make the pie easier to read, I tossed out the browsers with only 1% of the share. That boosted MSIE to 50% and left Firefox in second place, followed closely by NetNewsWire. That's worth looking into a bit more.
Yahoo Search blog
Then I started to wonder if the Yahoo Search blog has a similar pattern. So I pulled up the latest stats for the Yahoo Search blog. This data is from the month of December and current as of yesterday.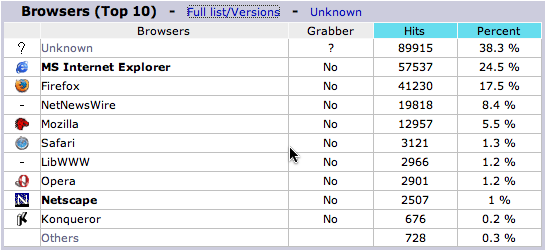 The numbers look pretty similar to what I've seen elsewhere. I am a little surprised to see LibWWW making it on the list, but whatever. And seeing the "unknown" browser bucket in first place is a little surprising too.
Conclusions
While I didn't spend a ton of time on this, it's clear that Microsoft Internet Explorer is still in the lead. But among weblog readers it certainly does not have the ~90% market share that we tend to think of it having the rest of the world.
Will this picture hold over time? That depends. Firefox may continue to grow. But as weblog readership continues to expand beyond the early adopters, we're likely to see some browsers lose ground to MSIE--at least for a while.
Comparing these numbers to those we see across all of Yahoo's properties shows some dramatic differences. But I strongly suspect I can't share specifics that data other than to say that IE use is much higher and Firefox is lower. Clearly the average Yahoo user isn't using Firefox yet. Is that a reflection of Yahoo, Firefox, or the general population?
It's probably all three. The real question is this: are the weblog numbers useful as leading indicators for the rest of the popoulation? If they are, what does that mean?
Posted by jzawodn at December 19, 2004 07:44 PM
Privacy:
I do not share or publish the email addresses or IP addresses of anyone posting a comment here without consent. However, I do reserve the right to remove comments that are spammy, off-topic, or otherwise unsuitable based on
my comment policy
. In a few cases, I may leave spammy comments but remove any URLs they contain.