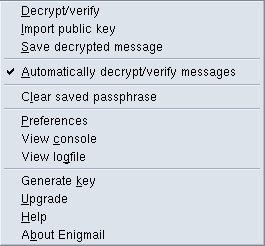 The enigmatic Troutgirl points at the Enigmail project which, aside from having a great name, may make some headway in getting e-mail encryption technology in front of the masses.
Enigmail is an extension to the mail client of Mozilla / Netscape and Thunderbird which allows users to access the authentication and encryption features provided by the popular GnuPG software (see screenshots). Enigmail is open source and dually-licensed under the GNU General Public License and the Mozilla Public License.
Having tried e-mail encryption of many flavors over the years, this sounds like it might just work. Integration has always been the killer. Either the system used a standard encryption tool such as PGP or now GPG, or it used a built-in system that didn't necessarily play nicely with others.
Enigmail seems to solve both of those problems.
Excellent.
Now, if only I could find a GUI mailer that could happily coexist with mutt (and, more importantly, my client-side Maildir e-mail storage).
Posted by jzawodn at December 05, 2004 07:53 PM
Privacy:
I do not share or publish the email addresses or IP addresses of anyone posting a comment here without consent. However, I do reserve the right to remove comments that are spammy, off-topic, or otherwise unsuitable based on
my comment policy
. In a few cases, I may leave spammy comments but remove any URLs they contain.