For a while now I've joked that Yahoo should have bought S&M Moving quite some time ago. You see, today (Friday) was cube move day. In fact, every Friday for the past few years seem to have been cube move day. Each time, the big moving trucks converge on campus and a bunch of guys begin the ritual of moving boxes, furniture, computers, and so on.
In theory, that means I had the afternoon off. In practice it means I was working anyway, thanks mostly to the wireless network and having a space to squat. Though it was pretty damn loud with all the demolition going on.
Demolition?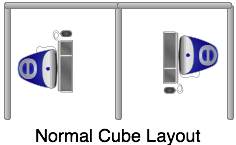 Yeah, they were tearing down a lot of cube walls to transform our normal sized cubes into what lovingly refer to as bullpens. We're basically out of space, so you knock down a cubicle wall and the space that used to hold 2 worker bees now holds 3.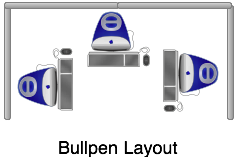 The wall in my old cube was taken away yesterday. The lack of a wall where there once was one is rather disconcerting. Sound travels really well, so you can year every keystroke, phone conversation, and so on.
On the plus side, there's this communal area in the middle now. Perhaps I should invest in a bean bag or something. Some of the Image Search folks have a little pool table in theirs.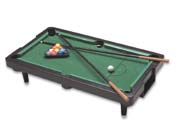 I shudder to think how much we've paid S&M for their services over the years. A friend of mine who has been at Yahoo about 4.5 years recent moved for his 13th time. That's about one move every four months. It's no wonder he's not managed to accumulate much random junk at his desk--well, other than boxes and labels.
Oh, and bonus points to anyone who names their company "S&M". It's brilliant, really.
Posted by jzawodn at November 12, 2004 08:22 PM
Privacy:
I do not share or publish the email addresses or IP addresses of anyone posting a comment here without consent. However, I do reserve the right to remove comments that are spammy, off-topic, or otherwise unsuitable based on
my comment policy
. In a few cases, I may leave spammy comments but remove any URLs they contain.