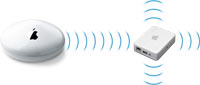 I'm thinking of getting an AirPort Express so that I can stream iTunes music to my stereo and use it as a portable access point when I travel. By all accounts, it does the job for these purposes pretty well.
However, I also like the idea of using it as a wireless bridge to extend the range of my existing wireless network. According to Apple's web site, it does this too:
If you already have a wireless network in your home and would like to extend its range, AirPort Express is your answer. Suppose you want to connect to the Internet with your PowerBook in an area that lies beyond the 150-foot range of your AirPort Express or AirPort Extreme Base Station. You can use AirPort Express as a wireless bridge to extend the range of your primary base station.
Excellent. But there's a footnote that I bothered to read for some reason. It says:
AirPort Express can extend the range only of an AirPort Extreme or AirPort Express wireless network.
What?!?!?
You mean to tell me that this won't worth with my existing Linksys hardware? Is that true? Why would Apple do that? Are they really using a proprietary protocol for this?
This strikes me as the sort of detail that really shouldn't be hidden away in a footnote.
Luckily, Amazon.com's user reviews have an answer for me:
For apple users I imagine installation is a breeze... Well, I use XP and I have got this puppy hooked up to a Linksys wrt54g 1.1 router. Installation in this setting wasn't such a nice experience. Since the Apple Express Assistant will only automatically detect Apple wireless networks, you have to install the device initially (using an Ethernet cable from your router) as its own network. Once you have done that you can step back in using the Apple Admin Utility to join your current network (you will need to type the name of the network in manually). It is not a major problem but it took me a couple of hours to figure it out/install. Had the directions been clear would never have been the case. Apple tech support truly blows, but many of the user groups are pretty good, so use these if you have problems.
Why Apple didn't simply acknowledge the fact that there are millions of non-Apple base stations out there (Netgear, Linksys, Cisco, etc) and make that easy is beyond me. Isn't the goal to make the device easy to setup and, as a result, sell as many as possible?
Even so, why couldn't Apple's site have explained that this does work but requires a bit of manual configuration?
Posted by jzawodn at October 13, 2004 08:18 AM
Privacy:
I do not share or publish the email addresses or IP addresses of anyone posting a comment here without consent. However, I do reserve the right to remove comments that are spammy, off-topic, or otherwise unsuitable based on
my comment policy
. In a few cases, I may leave spammy comments but remove any URLs they contain.