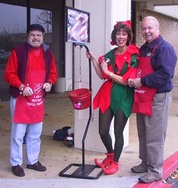 I was just listening to KQED's kick ass audio stream when a report came on about Target banning those annoying bell-rining Santas from hanging out at the store entrance/exit during the holiday shopping season.
It's been a few years since I actually set foot into an actual brick and mortar store during the holiday over-consumption season, but I still can't be a little proud of Target for this. That was one of the many, many things that drove me to use the Web for as much of my gift finding as possible.
Amusingly, the reporter said something at the end of the story like this: "if you want to see the Santas, you'll have visiit Wal-Mart, K-Mart, ..." and named a few others stores.
Why is that amusing? Because I think it had the opposite effect on me. If I thought I was going to be joining the herds later this Fall, I'd have written those names down on my "don't shop here" list.
Too bad I can't find the story on the NPR web site. But here's a report from Oregon on the story.
Posted by jzawodn at September 28, 2004 09:03 AM
Privacy:
I do not share or publish the email addresses or IP addresses of anyone posting a comment here without consent. However, I do reserve the right to remove comments that are spammy, off-topic, or otherwise unsuitable based on
my comment policy
. In a few cases, I may leave spammy comments but remove any URLs they contain.