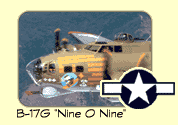 This is most excellent! The Collings Foundation's B-17 and B-24 are going to be at Moffett Field this week (13th-18th). That's right next door to work.
Like last year, which I missed, there will be ground tours for $8 and if you pony up $400, you get a 30 minute flight. (I think they were $300 last year?) I'm very, very tempted. Besides, I believe the $400 is tax deduction.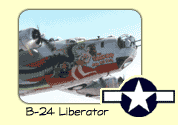 Anyone else planning to go--either to walk through or for a ride?
I should take my camera to work. My window kind of sort of faces Moffett and they're gonna be flying rides throughout the week, it seems. If I'm smart, I'll bring in my handheld and tune to 119.55 (tower/CTAF) or 121.85 (ground) to get a heads-up on when they're flying.
Oh, for more info about those two planes, either click on their images or visit their respective pages: B-17g and B-24j.
Posted by jzawodn at May 11, 2004 01:47 AM
Privacy:
I do not share or publish the email addresses or IP addresses of anyone posting a comment here without consent. However, I do reserve the right to remove comments that are spammy, off-topic, or otherwise unsuitable based on
my comment policy
. In a few cases, I may leave spammy comments but remove any URLs they contain.