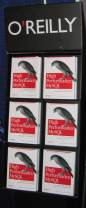 As noted on our site for the book, O'Reilly brought the first copies to the 2004 MySQL User's Conference in Orlando and it had sold out by the middle of the second day.
Woohoo!
Now Amazon reports that the book is shipping in 1-2 weeks (rather than being pre-order), and we even have our first customer review posted too.
I read the front matter and first three chapters on the plane ride home last night, pen in hand. I didn't mark as much stuff as I expected to but did manage to find a couple of dumb things we may want to fix for subsequent printings.
Thanks to everyone who has pre-ordered a copy or bought one at the show. The response has been amazing so far!
Derek has a picture of the books for sale at the show booth. I'll link to it as soon as he posts the pics.
Update: Posted.
Posted by jzawodn at April 19, 2004 01:59 PM
Privacy:
I do not share or publish the email addresses or IP addresses of anyone posting a comment here without consent. However, I do reserve the right to remove comments that are spammy, off-topic, or otherwise unsuitable based on
my comment policy
. In a few cases, I may leave spammy comments but remove any URLs they contain.