I have a sick mind. And I'm a visual person.
I was checking out something on Amazon and that stupid gold box in the upper right corner shook and caught my attention. For some reason I decided that I ought to see what was in it this time, not that I've ever found anything remotely interesting there before.
But, you know, there's always a first time...
The first item that came up... Well, let's just say it surprised me.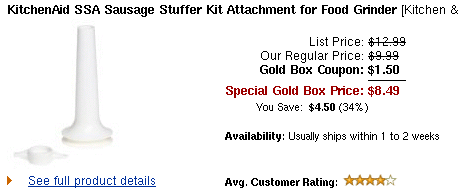 I glanced at it and thought, "What the...?!" and then I read the description: Sausage Stuffer Kit Attachment. That only made it all the more amusing.
I opted not to click on to the next item for fear of finding body oils or some other form of lubricant.
Anyway, I'll be staying out of the gold box from now on. It'll stay safely tucked under Mr. Bezos' bed. :-)
Now get your mind out of the gutter and get back to work! Just like I'm about to...
Posted by jzawodn at April 06, 2004 11:25 AM
Privacy:
I do not share or publish the email addresses or IP addresses of anyone posting a comment here without consent. However, I do reserve the right to remove comments that are spammy, off-topic, or otherwise unsuitable based on
my comment policy
. In a few cases, I may leave spammy comments but remove any URLs they contain.