The image to the right is what happens now when you attempt to add a new friend on Orkut.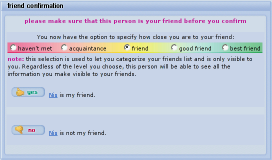 If you're too lazy to look at the larger version, the scoop is that they ask you to state how "closely" you know your new friend:
haven't met
acquaintance
friend (default)
good friend
best friend
I'd argue that "haven't met" is completely different than the other four, but we'll see how they use it. And I'm not sure if and how I'd go about classifying the other 142 people already in my friend list. I guess they'll all default to "friend"?
Now if they start to incorporate a few more variables (or relationship attributes), they'll have the beginnings of a FriendRank scheme.
So far this is a baby step, but they're headed in the right direction. I wonder if others will follow--or even try to lead. I wonder if Orkut will let me have more than one "best" friend?
Posted by jzawodn at March 09, 2004 06:11 PM
Privacy:
I do not share or publish the email addresses or IP addresses of anyone posting a comment here without consent. However, I do reserve the right to remove comments that are spammy, off-topic, or otherwise unsuitable based on
my comment policy
. In a few cases, I may leave spammy comments but remove any URLs they contain.