[This is part of a series of posts on the home buying process I'm going thru. To see the full set, visit the house category archives.]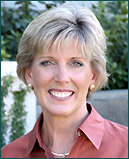 Now that I officially own the house (well, the bank owns it, but they're gonna let me live there), I wanted to put out a recommendation for the realtor that helped me through the home buying experience. She always had good advice and was patient with me. And she was always one step ahead of me in making sure the right paperwork got to all the right people.
If you're in the South Bay and looking for a house, give Pam a call. Or visit her web site: PamBlackman.com. While she mainly deals with the Los Altos, Mountain View, Sunnyvale, and Cupertino area, she had no trouble with me running all over Campbell and San Jose too.
Posted by jzawodn at February 27, 2004 03:38 PM
Privacy:
I do not share or publish the email addresses or IP addresses of anyone posting a comment here without consent. However, I do reserve the right to remove comments that are spammy, off-topic, or otherwise unsuitable based on
my comment policy
. In a few cases, I may leave spammy comments but remove any URLs they contain.