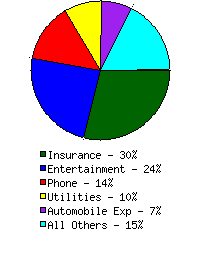 I've been meaning to do it for a long, long time. But there are always more interesting things on my radar. After updating my copy of Open Office yesterday I started working on a few simple spreadsheets that will greatly improve my understanding of my financial situation. For far too long now I've been making educated (often overly optimistic) guesses based on back of the envelope calculations without the benefit of an envelope.
I suspect that a lot of people operate this way.
When I first moved to California 4+ years ago, I sat down and created a monthly budget spreadsheet. The sticker shock of living here pretty much forced me to do it. But after a few months of feeling my way around I never looked at it again. I don't even know where it is.
This time around, I haven't done the monthly budget yet. Instead I'm getting a handle on assets, income sources (work, book, magazine, stock, other investments), longer term expenses (house payment, wanting to buy a glider). Once I have properly aggregated all of them, I'll then create a monthly budget. That'll probably wait until I'm in the new place, since I don't know what my utilities and insurance will be quite yet.
As with most things in life, this was easier than I thought it'd be. I should have done it ages ago. It took maybe an hour of gathering info and another 20 minutes of data entry and brain-dead simple modeling. The only thing I want to do next is verify a few assumptions with my tax guy.
One of the sheets I've assembled will be really helpful in tracking the major one-time expenses associated with the new place: down payment, moving, carpet, buying a fridge, etc.
It's really surprising how much insight you can get from a bit of quality time with a spreadsheet and some ballpark financial figures. Really. It is. Try it for yourself.
If I'm sufficiently pleased with my workbook of data in a month or two, I may post it here in case anyone else finds it useful. There's bound to be stuff that's specific to my situation, but someone might find it helpful.
Posted by jzawodn at February 17, 2004 09:04 AM
Privacy:
I do not share or publish the email addresses or IP addresses of anyone posting a comment here without consent. However, I do reserve the right to remove comments that are spammy, off-topic, or otherwise unsuitable based on
my comment policy
. In a few cases, I may leave spammy comments but remove any URLs they contain.