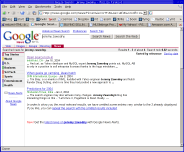 Sometime last year I setup a Google News Alert for my name. Why? Because I can't read every damned thing that gets published and I'd like to know when my name appears in the press--for good or bad. And I'd like to know before someone else asks me about it. As the screenshot at the right shows, there are currently three matches. This is a milestone of sorts, I guess.
The first one is from Jon Udell's latest Infoworld Column. The second is John Battelle's Foo Camp article from cnn.com. And the third sort of surprised me. It's an article in the Hindustan Times (India) that points to my 2004 predictions.
Cool stuff. Thanks Google. I know I bitch about PageRank a lot, but nobody else seems to match your news alerts coverage.
See Also:
Posted by jzawodn at January 19, 2004 07:05 PM
Privacy:
I do not share or publish the email addresses or IP addresses of anyone posting a comment here without consent. However, I do reserve the right to remove comments that are spammy, off-topic, or otherwise unsuitable based on
my comment policy
. In a few cases, I may leave spammy comments but remove any URLs they contain.