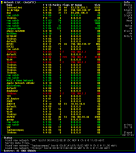 After yesterday's fun with WarDriving in Toledo, I saddled up for the ride toward Cleveland along the Ohio Turnpike (from exit 59 in Toledo to exit 193 at route 44, Ravenna). The results, again, were interesting. A good mix of commercial and residential setups. As with yesterday, the Linksys equipment outnumbered the occasional NetGear and Apple stuff. This time I saw at least one 3com device too.
Another amusing thing was that I'd pick up the "flyingj" network when we'd go past some of the truck stops. I didn't expect that.
There were some long patches (20 minutes or so) of finding nothing, but even the rural areas we'd get lucky once in a while. When I was typing and not paying attention to the outside, I could tell when we approached a more populated area--the kismet alerts would start going off every 5 seconds or so. At one point we found 5 Linksys networks within 30 seconds of each other.
In total, there were 104 access points along that stretch of Turnpike. Door to door, we found 112.
Posted by jzawodn at December 25, 2003 11:13 PM
Privacy:
I do not share or publish the email addresses or IP addresses of anyone posting a comment here without consent. However, I do reserve the right to remove comments that are spammy, off-topic, or otherwise unsuitable based on
my comment policy
. In a few cases, I may leave spammy comments but remove any URLs they contain.