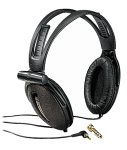 A few weeks ago, on the way back from India, Rasmus let me use his noise cancelling headphones for an hour or so on one of the flights. Even though I understand the science behind how they worked (it's really not that complicated), I'd always doubted how effective they could really be.
I was happily impressed. The headphones worked surprisingly well. I'd say they blocked out a good 70% of the consistent background noise, namely the engines. And that made the music much more pleasant.
Knowing that I'd be travelling a bit more in the coming year (Ohio, Florida, India (again), Mexico (possibly), and Brazil (possibly)), I decided that I'd spend a bit of time researching the options and get myself a set.
After a bit of hunting around, the only headphones that didn't cost an arm and a leg and which seemed to have consistently positive comments were the exact ones he'd let me borrow. So, I'm the proud owner of a new pair of Sony MDR-NC20 headphones.
Posted by jzawodn at December 18, 2003 12:21 AM
Privacy:
I do not share or publish the email addresses or IP addresses of anyone posting a comment here without consent. However, I do reserve the right to remove comments that are spammy, off-topic, or otherwise unsuitable based on
my comment policy
. In a few cases, I may leave spammy comments but remove any URLs they contain.