The Good News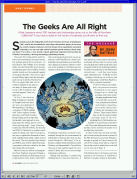 According to Jeremy Wright, I'm mentioned in this Business 2.0 article on Foo Camp.
The Bad News
I'm not about to pay Business 2.0 $5 to read a single page of a single article. A subscription form keep popping up when I try to read page 2. I'd gladly pay 'em $0.50 or so. Micro-payments anyone?
Sigh.
It's PayPal not rocket surgery, guys. You'd think that part of the "2.0" in "Business 2.0" would involve understanding how business ought to work on-line, wouldn't you?
Anyway, if somehow a copy of the article magically ends up in my INBOX I can actually read it.
Update: The author has provided a PDF version from his site (local copy). Thanks John!
Posted by jzawodn at November 24, 2003 12:28 PM
Privacy:
I do not share or publish the email addresses or IP addresses of anyone posting a comment here without consent. However, I do reserve the right to remove comments that are spammy, off-topic, or otherwise unsuitable based on
my comment policy
. In a few cases, I may leave spammy comments but remove any URLs they contain.