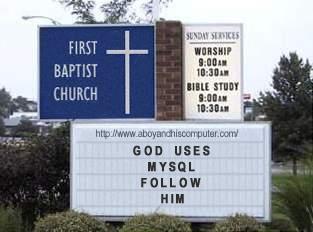 There was a lot of reaction to my recent post about MySQL at Sabre, most of which I don't have the time or interest to respond to. Too many people just Don't Get It and Never Will.
But I was inspired to visit the church sign generator and make the image you see with this post. I think it's amusing. :-)
Anyway, life would be so much easier if people stopped trying to think of MySQL in terms of Oracle or PostgreSQL or MSSQL or DB2 or... other database servers. It's none of them. It does many things they do not and doesn't do things they do. It satisfies different needs.
And, finally, those who want to argue that "a real database server should do ________ or ________" don't get very far with me. I don't care what you think a product should do in some abstract general terms. I care about how MySQL fits the needs of people I work with. Often it does. Sometimes it doesn't. And I have little problem figuring out the difference.
But, hey, if you feel like bitching MySQL, I won't try to stop you... But the recovering catholic in me knows that you'll probably go to hell for it.
Posted by jzawodn at November 07, 2003 05:12 PM
Privacy:
I do not share or publish the email addresses or IP addresses of anyone posting a comment here without consent. However, I do reserve the right to remove comments that are spammy, off-topic, or otherwise unsuitable based on
my comment policy
. In a few cases, I may leave spammy comments but remove any URLs they contain.