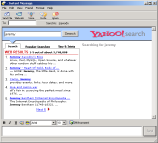 The windows version of Yahoo! Messenger has the ability to use Yahoo-developed plug-ins known as IMVironments (or IMVs for short). It's been there a while (a year or two now), but I've never really cared because (1) I don't use Windows much and they only work on Windows, plus (2) most of them seemed to either aimed at media brainwashed teens (the Lizzie McGuire one is a good example of this), were outright advertisements (Purina Dogs, Friskies, T-Mobile, Panasonic), or comics (Dilbert, Garfield).
But recently a useful one was added to the mix: The Yahoo! Search IMV. It basically integrates Yahoo! Search with instant messaging so that you can search with other people in a collaborative and real-time fashion. It's one of those things that seems obvious the first time you see it. Now I wonder why everyone hasn't done it.
So if you end up in IM conversations that often generate the need to search for something on-line (I always seem to), this could be quite useful. And if you're not a Windows user, well, pester to folks at Yahoo! to add IMV support to the Mac and Unix clients.
Hey, JR even likes it.
Posted by jzawodn at October 02, 2003 05:13 PM
Privacy:
I do not share or publish the email addresses or IP addresses of anyone posting a comment here without consent. However, I do reserve the right to remove comments that are spammy, off-topic, or otherwise unsuitable based on
my comment policy
. In a few cases, I may leave spammy comments but remove any URLs they contain.