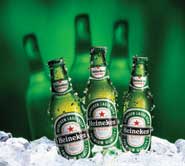 Through extensive trial and error, I've discovered that the optimal temperature for Heineken is not achieved in the refrigerator. The taste seems to improve quit a bit after it's had a chance to get roughly half way to room temperature. I don't have a thermometer handy, but I'm going to guess that it's roughly 48-52 degrees Fahrenheit. The fridge gets it close to 38 degrees or so (last time I checked) and it's about 65 in my apartment.
It's really too bad that I can't find JW Dundee's Honey Brown in the Bay Area. And it seems that Killian's Irish Red is hard to come by too. Those were my college favorites.
If you feel like bashing my choice of beer, don't waste your time. I really don't care what you think. Now, if you'd like to suggest something I ought to try, I'm all ears.
Posted by jzawodn at June 10, 2003 11:22 PM
Privacy:
I do not share or publish the email addresses or IP addresses of anyone posting a comment here without consent. However, I do reserve the right to remove comments that are spammy, off-topic, or otherwise unsuitable based on
my comment policy
. In a few cases, I may leave spammy comments but remove any URLs they contain.