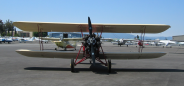 I decided to do something fun for my birthday today (29th, thanks for asking). So I hooked up with Amelia Reid Aviation at Reid-Hillview Airport in San Jose, the folks who also run RideInABiPlane.com. I had picked up a business card and flyer from them at the Watsonville Air Show (see this entry) a few weeks ago.
Anyway, we flew for about 40 minutes. Here are some pictures from the experience. The plane had room for two in the front, so Ray came along too.
It was great fun. I highly recommend going for a ride. I'm now tempted to work on my power license after the book is done.
Posted by jzawodn at June 04, 2003 04:08 PM
Privacy:
I do not share or publish the email addresses or IP addresses of anyone posting a comment here without consent. However, I do reserve the right to remove comments that are spammy, off-topic, or otherwise unsuitable based on
my comment policy
. In a few cases, I may leave spammy comments but remove any URLs they contain.