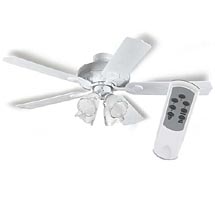 My landlord called me on Thursday to let me know that someone would come by on Saturday to install the ceiling fan that I requested over a year ago. He bought it a long time ago but never got around to getting it installed. And by the time I remembered it was fall and not that hot anymore.
Anyway, the guy came by on Saturday and did the installation. I have a nice new ceiling fan in the computer room of my apartment. It was the only room that had virtually no circulation, so it always got really warm in the summertime.
The funny part was when he asked me if I had a 9-volt battery. "Why?" I asked. "For the remote control" he said with a straight face. I looked at him blankly for couple seconds and then looked at the box. Sure enough, there was a remote control in it.
You don't believe me? Have a look.
It's official:
People are too lazy
I now really have too many remote controls
The computer room is cool. Literally.
This got me thinking. If we're putting remote controls on ceiling fans now, what's next? I already have remote controls for my Sony Car Discman, DVD player, Lights (X10), TV, VCR, TiVo, and Stereo. My previous car had a keychain remote for locking, honking, and so on.
Maybe kitchen appliances? Or the toilet? You know, a "John Cage from Ally McBeal" sort of remote flush device?
Sigh.
Posted by jzawodn at June 01, 2003 03:01 PM
Privacy:
I do not share or publish the email addresses or IP addresses of anyone posting a comment here without consent. However, I do reserve the right to remove comments that are spammy, off-topic, or otherwise unsuitable based on
my comment policy
. In a few cases, I may leave spammy comments but remove any URLs they contain.