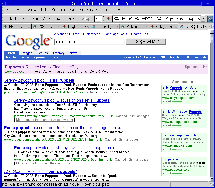 This is the best Google bug I've seen in a while.
In the process of verifying that I was still listed as the #1 result for a "penis puppets" search (don't ask), I noticed something funny near the bottom of the page. If you click the screen shot at the right, you'll notice what I did.
Google indexed the results of the same search from AOL's search and gave it a relatively high PageRank.
Oops.
I wonder how long that will last.
Posted by jzawodn at May 20, 2003 04:11 PM
Privacy:
I do not share or publish the email addresses or IP addresses of anyone posting a comment here without consent. However, I do reserve the right to remove comments that are spammy, off-topic, or otherwise unsuitable based on
my comment policy
. In a few cases, I may leave spammy comments but remove any URLs they contain.