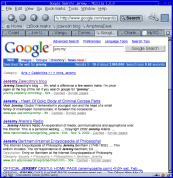 Look carefully at the picture to the right. Click to get a larger version. I search Google for jeremy to check that I'm still in the number one slot (as noted earlier). I am. And how does Google summarize my blog?
Jeremy Zawodny's blog. ... Ah, what a difference a few weeks make. I'm once again at the top of the list if you search google for "jeremy". ...
How terribly amusing. Perhaps Google ranks you higher if you talk about it. :-)
I can't help but to think that there's an engineer at Google who reads by blog and decided to have some fun with me. That's the sort of thing I'd do if I worked there.
Posted by jzawodn at November 11, 2002 11:24 AM
Privacy:
I do not share or publish the email addresses or IP addresses of anyone posting a comment here without consent. However, I do reserve the right to remove comments that are spammy, off-topic, or otherwise unsuitable based on
my comment policy
. In a few cases, I may leave spammy comments but remove any URLs they contain.